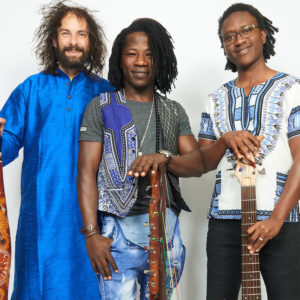 Yelé
Sur ses compositions, YELÉ mêle des sonorités Blues Mandingue à la Funk, au Reggae et au Rock avec un soupçon de transe aborigène. L'instrumentation est inédite : Kora – N'goni, Didgeridoo, Guitare, Percussions. Il en résulte une musique moderne, universelle et surprenante sans rien trahir de l'essence des musiques traditionnelles africaines qui inspirent YELÉ.
YELÉ qui signifie lumière en bambara (langue d'Afrique de l'ouest), est un trio unique et atypique sans artifices, délivrant un groove implacable. N'Goni,Didjeridoo,GuitareetBassesurfentsans concessions entre différents genres et proposent une musique « sang mêlé » au service d'une voix généreuse. Le chant est authentique, puissant et poétique et porte en lui de multiples héritages traditionnels afin de sublimer la richesse des musiques du monde. YELÉ naît de la dérive des continents musicaux en mai 2016 par la rencontre entre 3 musiciens multi-instrumentistes. Si les messages et les valeurs que véhicule ce groupe sont dans la lignée des traditions griotiques, leurs compositions se veulent universelles et piétinent allègrement les frontières des genres. Du bush australien au Mississipi en passant par l'empire Mandingue, YELÉ est un melting pot épicé qui transcende la world music aventureuse. Sur scène le trio se démarque et étonne par l'originalité de son instrumentation et le dynamisme de ses performances. La fusion de styles, la qualité musicale et l'énergie du groupe est immédiatement communicative ; tantôt pour une écoute attentive et chargée d'émotions, tantôt un irrépressible et irrésistible appel à la danse. YELÉ un groupe authentique et singulier absolument à découvrir. Après plus de deux ans sur les routes d'Europe et des prestations live remarquées dans des festivals de renommée internationale comme le Rêve de L'aborigène, Africajarc ou Ecaussysteme en France, Jam in Jette en Belgique, Boom Festival au Portugal ou encore Spirit Of Tengri au Kazakhstan, Yelé reviendra sur les routes d'Europe et du monde avec un nouvel album à présenter en 2019 !
On its compositions, YELÉ mixes Blues Mandingue sounds with Funk, Reggae and Rock with a hint of Aboriginal trance. The instrumentation is unique Kora – N'goni, Didgeridoo, Guitar, Percussion. The result is modern, universal and surprising music without betraying the essence of traditional African music that inspires YELÉ.
YELÉ, which stands for "light" in bambara (a langage from West Africa), is an unique, distinct and sincere trio, delivering a tenacious groove. N'Goni, didjeridoo, guitar and bass are uncompromising, seamlessly weaving between different genres and propose a "mixed-blood" music in the service of a rich voice. The singing is authentic, powerful, poetic and contains multiple tradition heritages to sublimate the richness of world music. YELÉ was born in May 2016 from the derival musical drifts with the meeting of 3 multi- instrumentalist musicians. The messages and values this band are conveying are in the line of "griot" tradition, and their compositions are universal and joyfully trample the frontiers of genres. From the Australian bush to Mississippi including Mandinke empire, YELÉ is a spicy melting pot ensemble which transcends the adventurous world music. On stage the trio stands out and surprises with their instrumentation originality and their dynamic performances. The fusion of styles, the musical quality and their energy is immediately communicative, both for attentive, emotional listening, and a call for an irrepressible and irresistible dancing. YELÉ is an authentic and singular band to discover! After more than 2 years on the European road with noteworthy lives in festivals internationaly acclaim, as Le rêve de l'aborigène, Africajarc or Ecaussystème in France, Jam in Jette in Belgium, Boom Festical in Portugal or Spirit Of Tengri in Kazakhstan, YELÉ will be back on Europe and world's roads with a new album to be released in 2019 !
Line-UP : 
– Losso Keïta (Burkina -Faso) : Lead Vocal, Kora, N'Goni, Percussions
– Eliah Jasper (Hollande, Australie) : Didjeridoo, Bansuri
– Isaac Koffi Djeke (Côte d'Ivoire) : Guitare 
Références : Festival le Rêve de l'Aborigène (F), Festival Africajarc (F), Boom Festival (P), Festival Ecaussyteme (F), Jam'In'Jette (B), Spirit of Tengri (KZ), Swizzeridoo Festival (S), Playing for Change Day (F), Grottes de Lascaux (F)…