Du 17 au 19 juillet 2020 à Trigance (Var 83) France
 Annulé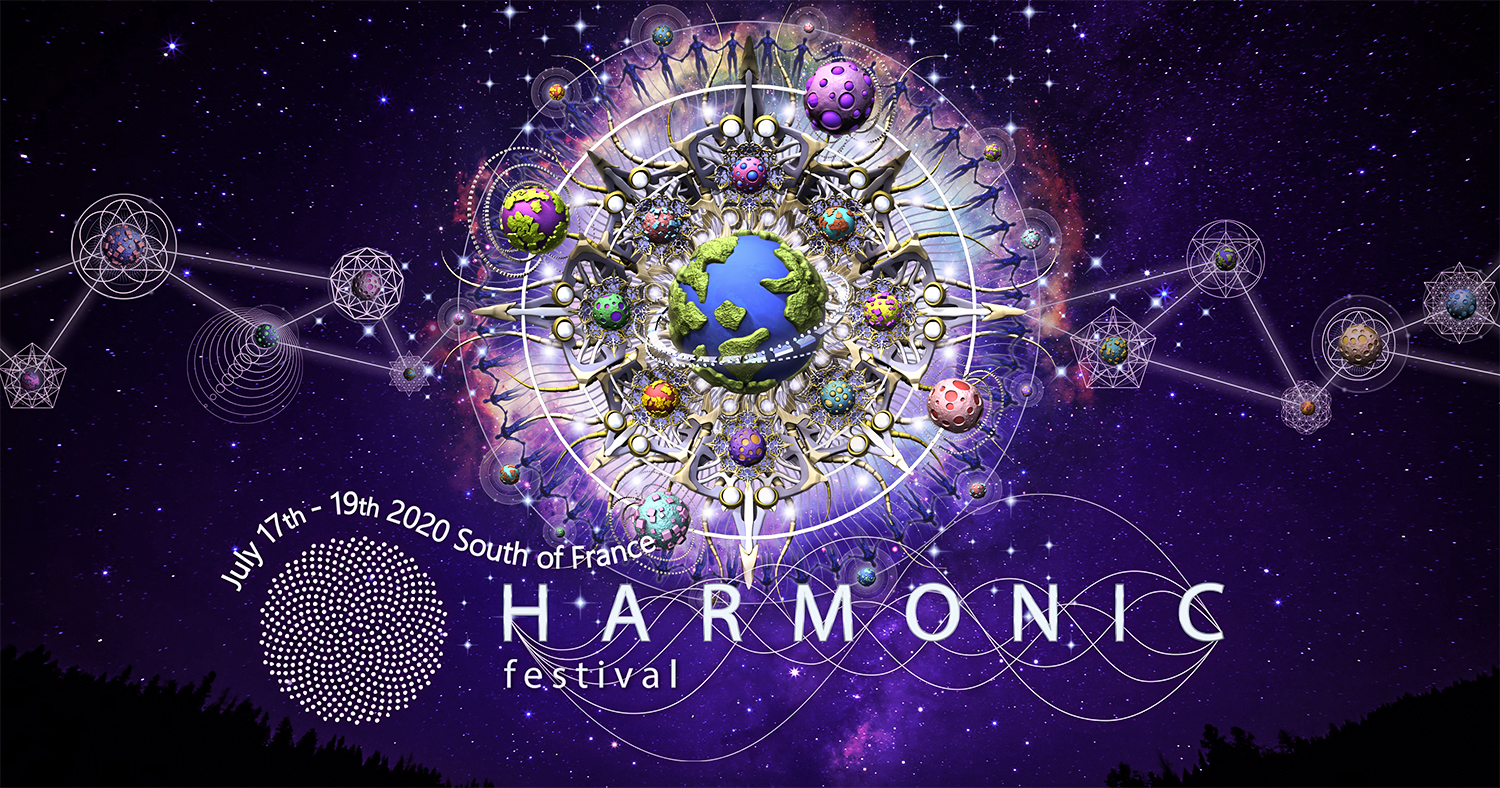 Edition 2020 à Trigance (Var 83) France
Annulée
Cultiver l'harmonie en s'appuyant sur des valeurs universelles, comme celles du respect et de la bienveillance, voilà le sens qui peut imprégner la vision de l'humanité pour colorer ses projets et son avenir, dans les domaines socio-culturel, artistique, environnemental et spirituel.
Le festival HARMONIC se veut être une plate-forme de promotion et de rayonnement de cette idée, avec des ateliers, des conférences, du spectacle vivant et de la musique électro / acoustique (ambient, dub, downtempo, ethnique…) – écologisme du corps et de l'esprit.
Harmonic festival offers a relaxed setting 

for you to enhance the balance between your body, mind 

and soul in harmony with universal values such as equity, collective 

responsibility, sharing and caring.
The force of this event lies in its ability to gather 

performing arts, workshops, conferences and music (ambient, downtempo, dub, ethnic…)
Harmoniciennes, Harmoniciens,
Comme vous le vivez au quotidien et pouvez le constater, la situation inédite et abasourdissante dans laquelle le monde entier est confronté face à cette pandémie, demande à chacun de changer complètement son mode de vie et de tenter de s'adapter.
Cette année 2020 sera marquante tant par cette soudaineté dramatique que par la prise de conscience qu'elle implique.
Le festival Harmonic a toujours prôné la bienveillance et malgré tout notre enthousiasme, positivisme et envie de partager les valeurs qui nous ont toujours réunies et notre envie de célébrer la vie, la liberté, le respect de la nature, la connaissance de soi, l'esprit de la fête… Nous devons, comme beaucoup nous résoudre à l'évidence…
Il nous est impossible de prendre le risque d'assurer au sens propre comme figuré l'organisation d'un rassemblement, si petit soit-il impliquant les relations humaines et chaleureuses qui nous ont toujours unies, tels que les embrassades, câlins, massages, grandes discussions…
Comme tous les autres festivals et événements dans ces moments difficiles, notre équilibre financier est très fragile, aucune assurance ne pouvant nous couvrir, aucune certitude de prévision quant à la venue des artistes, des secouristes…
C'est donc avec tristesse que nous devons vous annoncer que le festival Harmonic 2020 ne sera pas.
L'univers connecté, qui est notre thème prend son propre chemin mais nous réunira, nous l'espérons de tout coeur, l'an prochain…
Entre-temps, pour les Harmonicien(nes)s ayant déjà pris leur ticket, les modalités de remboursement (hormis les frais de location) vous seront communiquées d'ici quelques jours.
Une immense pensée à tout l'univers de l'événementiel, aux organisateurs, aux artistes, aux intervenants, aux stands, aux techniciens…
Comme bien d'autres, nous sommes tous touchés par ce drame et devons rester unis et solidaires !
We are One !
Harmonicians,
As you experience in your daily life, the unprecedented and astounding situation in which the whole world is confronted facing this pandemic, requires everyone to completely change their way of life and to try to adapt.
2020 will be unforgettable both for this dramatic suddenness and for the awareness it implies.
Harmonic Festival has always been focused by sharing and caring and despite our enthusiasm, positivism and desire to share the values ​​that have always united us and our desire to celebrate life, freedom, respect for nature, self-knowledge, party spirit… We must, as many, go to the evidence…
It is impossible for us to take the risk of ensuring, literally as figured, the organization of a gathering, however small it may be, involving the warm and human relationships that have always united us, such as hugs, massages, great discussions…
Like all other festivals and events in these difficult times, our financial balance is very fragile, no insurance can cover us, no certainty of forecast as for the arrival of artists, rescuers …
It is therefore with sadness that we must announce to you that the Harmonic Festival2020 festival.
The connected universe, which is our theme, is taking its own path but will bring us together, we hope deeply, next year …
In the meantime, for all Harmonians who have already taken their ticket, the reimbursement terms (apart from the rental costs) will be communicated to you within a few days.
A huge thought to the whole universe of the event, to the organizers, the artists, the speakers, the stands, the technicians …
Like many others, we are all affected by this tragedy and must remain united!
We are One!