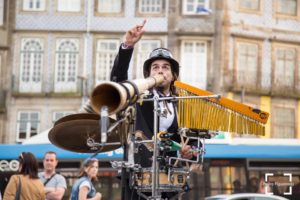 Till Sunday Pirate
Renato Oliveira a commencé comme musicien de rue et c'est à partir de là qu'il a découvert l'art du spectacle. En 1997, il rencontre le didgeridoo et c'est avec lui qu'il évolue musicalement en participant à des formations musicales, à des groupes originaux et à des groupes d'interventions musicales de charité sociale et de charité avec Casa da Musica à Porto. Un groupe de didgeridoo – soliste – qui joue simultanément de 13 instruments – est un ensemble complet avec production simultanée en studio et reproduction électroacoustique de thèmes radiofoniques originaux avec la fusion de styles tribaux alternatifs comme par exemple: funk à dub ou ska à progressif ou worldmusic à Danse. La musique est jouée sans loopstation ou autres machines à effets. L'indépendance impressionnante de Renato Oliveira, montre que l'on ressent plusieurs voix en un seul homme.
En 2013, il a publié un autre numéro appelé Sunday Pirate, jouant de la batterie, des percussions, de la musique et du didgeridoo, réunissant les terres du Sri Lanka Atman Festival, Universo Paralello au Brésil, Festival Inchala en Uruguay, Amérique San Francisco StreetBusker, Festival au Maroc Tranceahara, Thaïlande Expérience Festival montrer son art si rare et difficile, comme un défi qui peut être comparé à une tempête en mer où seul le pirate le plus courageux s'évade et se dirige vers un bon port par un dimanche ensoleillé. Journée calme par excellence et dévotion à la grande étoile qui nous offre son énergie vitale.
Renato Oliveira began as a street musician and it was from this that he met the art of the show. In 1997 he met the didgeridoo and it was with him that he evolved musically participating in musical formations, original bands and participated in groups of musical intervention of social charity and charity with Casa da Musica, Porto. A band of didgeridoo – soloist – that simultaneously plays 13 instruments – is a complete set with simultaneously production in studio and electro acoustic reproduction of original radiofonic themes with fusion of alternative tribal styles like for example: funk to dub or ska to progressive or worldmusic with dance. The music is played without loopstation or other effects machines. The impressive independence of Renato Oliveira, shows when one feels many voices in only one man.
In 2013 he released another musical number called Sunday Pirate, playing drums, percussion, electronic sample, voice and didgeridoo, bringing the lands of Sri Lanka Atman Festival, Brazil Universo Paralello, Uruguay Inchala Festival, America San Francisco StreetBusker, Morocco Tranceahara Festival, Thailand Experience Festival to show his art so rare and difficult , as a challenge that can be compared to a storm in the sea where only the bravest pirate gets away and heads to a good harbor on a sunny Sunday. Calm day par excellence and devotion to the great star that offers us its vital energy.