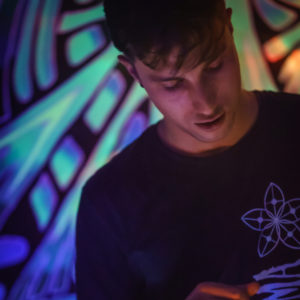 PASA
Fabio a déjà découvert sa passion pour la musique à l'âge de 12 ans. Comme il a toujours aimé les rythmes rapides, il a commencé à jouer de la batterie. Cinq ans plus tard, il a commencé sa carrière de DJ dans la musique house et techno. En peu de temps, sa musique est devenue célèbre sur la scène régionale. Il n'a que 20 ans lorsque son propre label «This Is Underground» célèbre son deuxième anniversaire avec un grand événement. Tout au long de son label, il a pu partager sa passion pour la musique électronique avec d'autres. Il a déjà joué en Allemagne, en Italie et en Suisse. Le temps passant, il réalisa qu'il en voulait plus. Après une pause spirituelle, il cherchait à explorer un autre style. Vers la même époque, son frère lui montra une musique plus rapide avec une formation psychédélique à l'âge de 22 ans, il poursuivit sa carrière de DJ en mixant de la Psy-Trance. Avec son frère à ses côtés, il a atteint un tout nouveau niveau de musique psychédélique et un nouveau monde s'est ouvert à lui. Depuis 2012, il fait partie du crew 7sd, organisateur du festival du cirque cosmique en Suisse. Xerxs music Switzerland a commencé à le remarquer et l'a pris sous contrat en 2014 et en 2018, il a signé avec le label basé au Royaume-Uni / Goa, Shiva Valley Records.
• PASA (artiste psychédélique, aéronautique et spatial) 145-152bpm PsyTrance, Nightpsy, Twilight.
Fabio already discovered his passion for music at the age of 12. As he always loved fast beats, he started playing drums. Five years later he started his DJ career in house and techno music. Within a short period of time his music became well-known in the regional scene. He became only 20 when his own label "This Is Underground" celebrated its second anniversary with a big event. Throughout his label he was able to share his passion to electronical music with others. He already played in Germany, Italy and Switzerland. Time passing by he realized he wants more. After a spiritual break he was looking to explore another style. Around the same time his brother showed him faster music with psychedelic background at the age of 22 he continues his DJ career by mixing Psy-Trance. With his brother on his side he reached a complete new level of psychedelic music and a new world opened up to him. Since 2012 he is a part of the 7sd crew, the organizers of the cosmic circus festival in switzerland. Xerxs music switzerland started taking notice of him and took him under contract in 2014 and in 2018 he signed with UK/Goa based label Shiva Valley Records.
• PASA (Psychedelic, Aero and Space Artist) 145-152bpm PsyTrance, Nightpsy, Twilight.