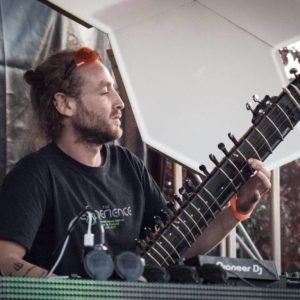 Naure Saïd
Naure Saïd est un compositeur passionné de sitar et d'electro trance. Après plusieurs voyages en Indes pour l'apprentissage du sitar , il commença à fusionner ses productions tout en jouant de cet instrument. Il développa un style de riff sur plusieurs de ces projets , chill out psyprog, et accompagna des artistes comme Lutin des Bois, Gnaïa et bien d'autres. Aussi voyageur dans l'âmes pour l'inspiration de ces morceaux, Nauresaïd vous fera voyager.
Naure Saïd is a french ethnotrance music composer. He started fusing trance with indian music after traveling several times in India. Joining Oreades Prod  he was able to work with Lutin des Bois, Gnaïa …. and developed his style playing sitar and jew'harp. After touring some years in different countries, festivals and parties. Naure Saïd comes back with his project ….Be ready for him !! He integrates Sunna Records in 2018 , it's German Ethno trance label. New chapter between Oréades prod and Sunna Records ;).

Also a traveler in the souls for the inspiration of his pieces, Naure Saïd will make you travel.